DJ Gomez
From Krass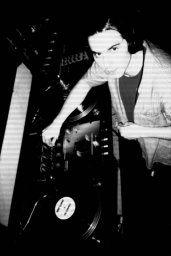 Who ever's a fan of minimalistic techno/electronic music will love spanish DJ Gomez.
He found his love to techno in a club in Valencia in Spain and was hooked from there on.
He started DJ-ing in '93 and is very popular in the Stuttgart area, having played in countries like Canada, Argentina, U.K., Spain and of course in Germany for example in the Prag club (Stuttgart), Taucher Club (berlin), Partysan party at Magic (Ãœberlingen), Bluemchen (Lahr), Parkhaus (Kenzingen) Takco Bar and Sudhaus (Tuebingen), Cinderella (Tuebingen), Wabun (Reutlingen), Atrium (Reutlingen), Epplehaus (Tuebingen), Limited (Reutlingen), Mustang (Reutlingen), Blauer Turm (Tuebingen). At the moment he's playing once a month with DJ Motik at the Depot in Tuebingen. The party's called Maquina - spanish for machine.
He produced a record with his friends elef and the jet-set-guys on Shokoy Records and is now touring around Europe with the label's founder Elef Tsiroudis.
Gomez is member of Los Pornos
You can also catch him on the radio at Goteli G8.
[edit]
Top 10 (April 2006)
[edit]
Mix CDs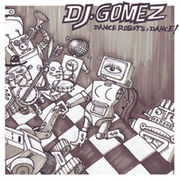 We are very proud to present you this outstanding CD mixed by DJ Gomez who is one of the most respected DJ's coming from South Germany. He already played alongside Colin Dale, Dave Clarke, Laurent Garnier just to name a few. He has played at many major national/ international Clubs / Events and in February 2006 he also had his first appearance at Sven Väth's "Cocoon Club" playing together with DJ DAG. What can you expect on his first Mix CD? Very simple to answer. The finest selection of minimal techno & techhouse tracks perfectly mixed with Vinyls (no CD-Edits) and a smooth build up. Just a pleasure for your ears.. All Major Labels & Acts like Cocoon Recordings, BPITCH, Ware, Lasergun, Treibstoff, Karmarouge, Third Ear, M_NUS, Gusgus, Ellen Allien, Carl Craig, Pin&Dan, Rob Acid, Berg Nixon, Matthias Schaffhäuser, Tomas Andersson gave their permission to make this CD true. You can be sure to hear a lot of more from this sympathic & very skilled DJ this year. So keep an eye on him. Can Robots dance???? yes they can ........
tracklist:
[edit]
Productions
Shokoy >> shok008-6 Gomez - Feieralarm EP (12")
[edit]
Gallery