Richie Hawtin
From Krass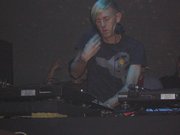 Richie Hawtin (born June 4, 1970) is a Canadian associated with Detroit techno's second wave of artists who helped to change the face of electronic music along with peers Carl Craig, Kenny Larkin, Stacey Pullen, John Acquaviva, Daniel Bell and others. Hawtin is most known for his haunting minimal works under the alias Plastikman. Other works appear under the aliases F.U.S.E, Concept 1, From Within, "Up!" and more. He is also known for DJing minimal techno sets that are enhanced with equalization tweaking.
He currently runs the M_NUS and Plus 8 record labels.
Although he was born in Banbury, Oxfordshire in England, Richie Hawtin is from LaSalle, Ontario, which is a suburb of Windsor, Ontario. He spent part of 2002 and 2003 living in New York City, and has since moved to Berlin, Germany.
[edit]
Discography
F.U.S.E.: Dimension Intrusion, 1993
Plastikman: Sheet One, 1993
Plastikman: Musik, 1994
Richie Hawtin: Concept 1 96, 1998
Plastikman: Consumed, 1998
Plastikman: Artifakts, 1998
Richie Hawtin: Decks, EFX & 909, 1999
Richie Hawtin: DE9: Closer to the Edit, 2001
Plastikman: Closer, 2003
Richie Hawtin: De9: Transitions, 2005
[edit]
Gallery