Access Tonal Communications
From Krass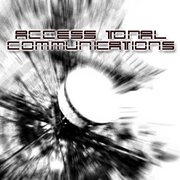 Access Tonal Communications is an Electronic music & multimedia label based in Wales. They have been composing subversive electrostructures since 2000 and recently moved to exploit digital video to accompany the audio as a visual representation but also to broaden their output and use in a live perspective.
There are numerous artists within the collective formulating tonal emissions, location filming, rendering video & creating a visual aesthetic for the label, two of which, Info_Cifon & Scan Retina have recently been representing Access Tonal Communications doing live laptop sets.
The label now has the capacity to perform live anywhere at anytime. Venues and promoters are being contacted with a view to Access Tonal Communications artists performing audio/video electro sets in Britain & abroad. Having recently played gigs across the country, the label is eager for it's artists to perform at any given opportunity and welcomes such offers.
Access Tonal Communications music could be broadly described as electronica as their influences come from many spheres and musical spectrums. These inevitably permeate the recordings. Ultimately it is an amalgam of Detroit Techno, Electro & Hip Hop and although these are reference points, members have spent time performing in Punk, Hardcore & Jazz groups in the past allowing for a greater scope musically. The label certainly has it's own sound.
Future plans for Access Tonal Communications are to push the electronic music scene in Wales and beyond.
[edit]
Artists